About Us
At Jarosch Bakery, we are proud to serve as the leading source for sweet treats in Elk Grove Village, Illinois. Since October of 1959, our family-owned scratch bakery has created delicious delicacies for every occasion. Visit us to treat yourself to something sweet.
Our Early Beginnings
Jarosch Bakery, Inc. was established in the northwest Chicago suburb of Elk Grove Village, Illinois, in October of 1959 by the father and son team of George and Herbert Jarosch, along with their wives Kathe and Betty. With two additional bakers, they opened their doors in the brand new strip mall at the corner of Arlington Heights Road and Higgins Road (Route 72) as the homes in Elk Grove Village were just beginning to spring up. Much of the surrounding area was still farmed by the families whose names grace many of Elk Grove's major streets.
A Family Business
George (Grandpa) emigrated from Germany in 1919, having trained in his father's bakery in Giessmannsdorf.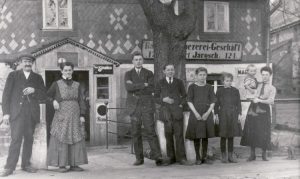 George worked in several Chicago bakeries before opening his own shop on Diversey, near Central.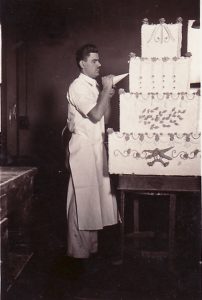 Herbert followed in Grandpa's footsteps, working in the family bakery, serving as a baker in the Korean War, and working for one other Chicago area bakery. With three children under the age of six, Herb and Betty partnered with the senior Jarosches to establish shop in the current location.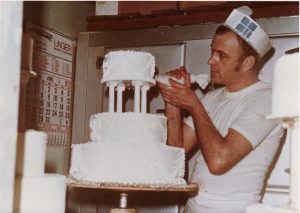 The business grew with the growth of Elk Grove and the Northwest Suburbs. After Grandpa George retired in 1968, Joe and Dolores Stephan, former owners of a bakery on Lincoln Avenue, then became partners with Herb and Betty.
The business continued to grow, requiring several physical expansions in the production area. In 1987, the Stephens retired, and in 1989, Ken and Kathy Jarosch joined the business.
New Expansions & the Future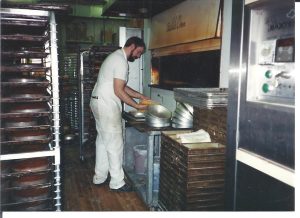 Ken, son of Herb and Betty, and his wife Kathy are former engineers with McDonnell Douglas (now Boeing). Ken grew up working in the bakery, learning from his father and grandfather, as well as the other skilled bakers. In 1993, when the adjacent dry cleaners relocated, the bakery expanded again, doubling the customer and counter area as well as increasing the production space again. The newly remodeled store is bright and contemporary and the larger space allows customers to wait inside during the busy holiday season.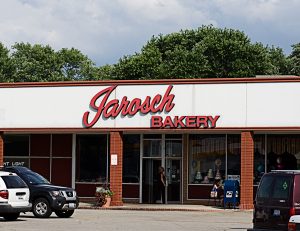 Sadly, in 1994, Herb passed away at age 64. Ken and Kathy continue to operate the business with the help of more than 50 employees. Several employees have been with the bakery for more than 30 years, providing the consistent high quality of our baked goods. Ken and Kathy have three children and hope to one day pass the business on to them. We are current members of the Greater O'Hare Association (GOA), Elk Grove Chamber of Commerce, National Federation of Independent Business (NFIB), Retail Bakers Association (RBA), and the Chicago Area Retail Bakers Association (CARBA).