Some items may not be available for pre-order online yet. If you don't see what you're looking for, please call to order
STRAWBERRY CHEESECAKE HEART
New York Cheesecake
Glazed Fresh Strawberries
Buttercream Borders
AVAILABLE STARTING FEB 5th
STRAWBERRY SHORTCAKE HEART
Yellow Cake
Glazed Fresh Strawberries
Pink Whipped Cream Border
AVAILABLE STARTING FEB 5th
SPRINKLE CAKE
Yellow & Devil's Food Cake
Buttercream Filling & Icing
Pink, Red, & White Sprinkles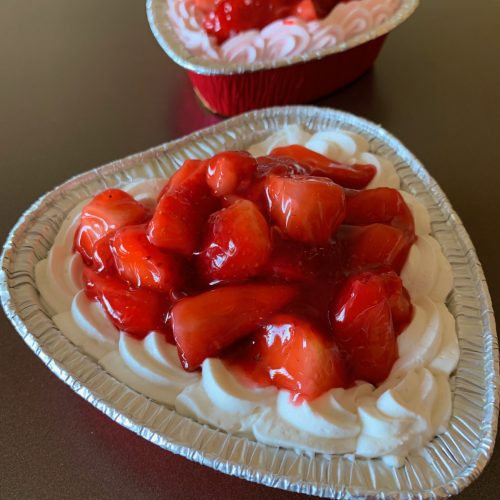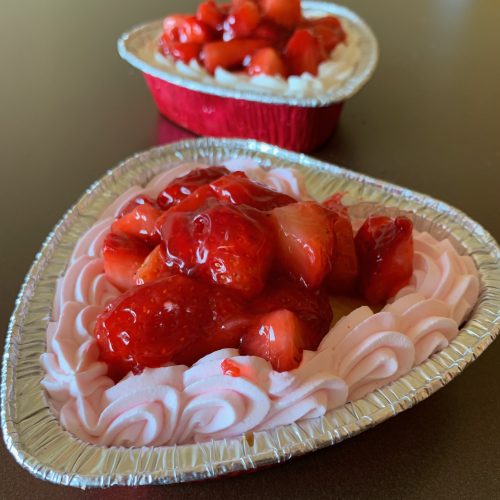 PETIT CHEESECAKE HEART
New York Cheesecake
Glazed Fresh Strawberries
Buttercream Border
AVAILABLE STARTING FEB 5th
CHERRY HEART COFFEECAKE
Buttery Coffeecake Dough
Cherry Preserve Swirl
Streusel, Icing, and Pink Sugar
AVAILABLE STARTING FEB 5th
PETIT STRAWBERRY SHORTCAKE
Yellow Cake
Glazed Fresh Strawberries
Pink Whipped Cream Border
AVAILABLE STARTING FEB 5th
ICED HEART COOKIES
3" Heart Sugar Cookie
Iced with Melted Fondant
Wrap available for an additional cost
BUTTON COOKIE BAG
18 - 2" Button Cookies
Pink, White, Red Sprinkles
Come in a decorative bag
HOLIDAY 6 COOKIE BAG
2 Red Sugar Heart Cookies
2 Pink Sugar Heart Cookies
2 Sprinkle Heart Cookies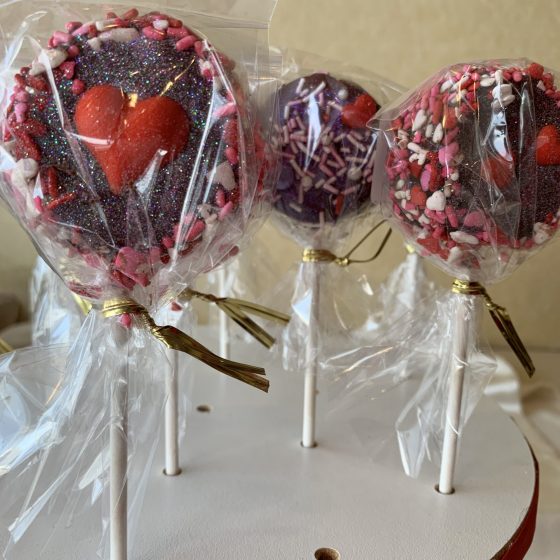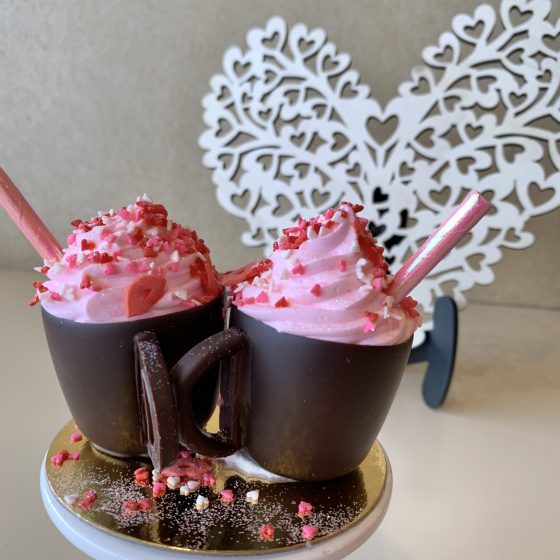 BROWNIE LOLLIPOPS
No Nut Brownies
Choc Dip
Valentine's Deco
Individually Wrapped
HEART BON BON
White Cake
Strawberry Preserve 
Pink Melted Fondant Icing
CUPID'S CUP OF LOVE
2 Edible Dark Chocolate Cups
Raspberry White Chocolate
Pink Whipped Cream
AVAILABLE STARTING FEB 5th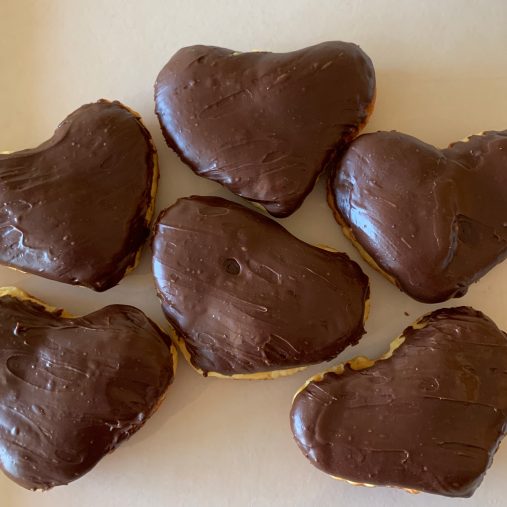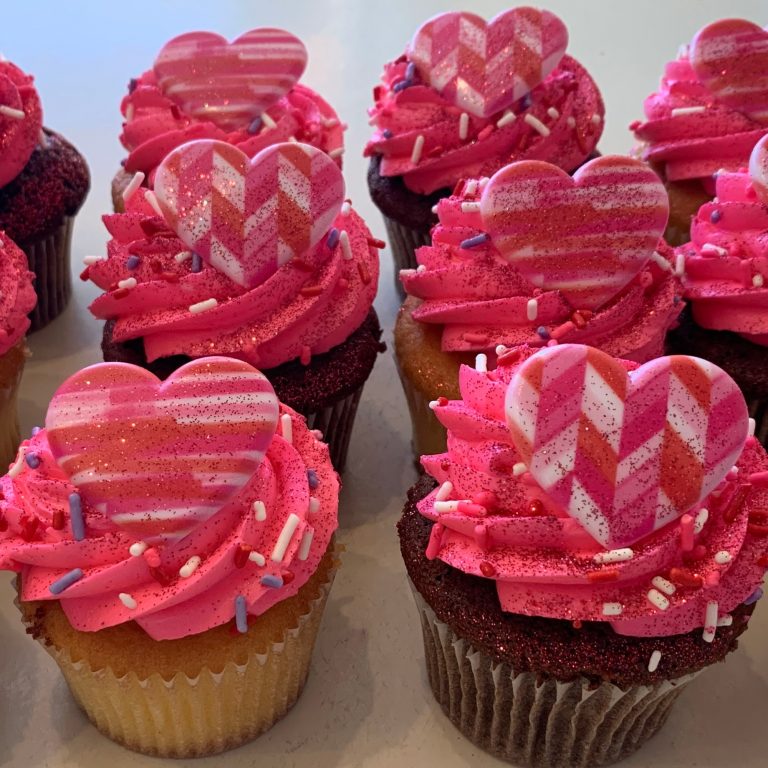 JELLY BISMARK
Heart Shaped Yeast Donut
Black Raspberry Jam filled
Pink Icing & Sprinkles
ORDERS HIGHLY RECOMMENDED
AVAILABLE 2/13 & 2/14 ONLY
CHOCOLATE CUSTARD BISMARK
Heart Shaped Yeast Donut
Custard Filling & Chocolate Icing
ORDERS HIGHLY RECOMMENDED
AVAILABLE 2/13 & 2/14 ONLY
CUPCAKE SIX PACK
Yellow & Devil's Food Cupcakes
Pink Buttercream Icing
Valentine's Deco
Packaged & Ready to Go!
We LOVE the Little Things
GOURMET CUPCAKES
AVAILABLE STARTING FEB 1st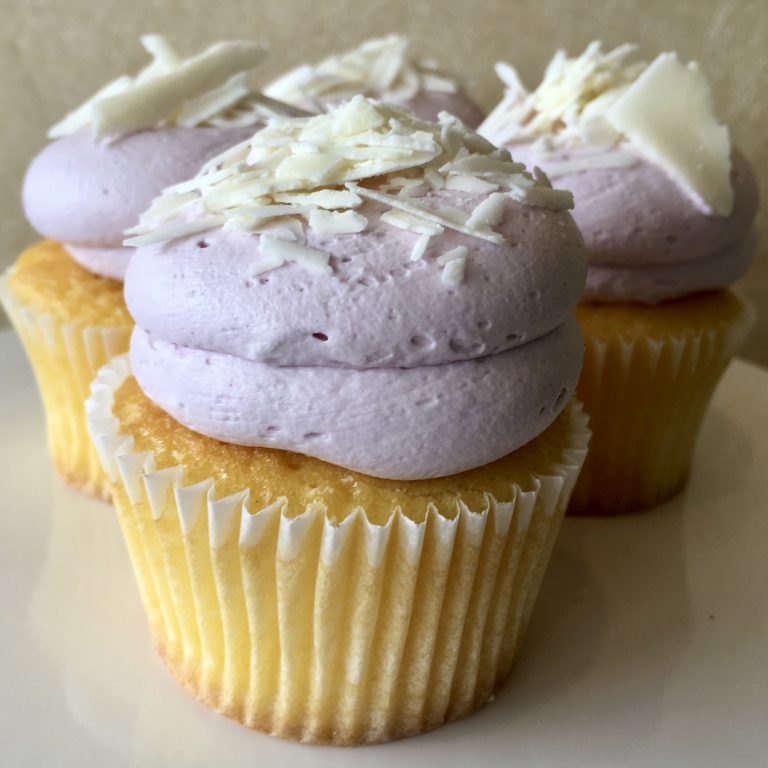 RED VELVET CUPCAKE
Red Velvet Cake
Buttercream/ Cream Cheese Icing
Red Velvet Crumbs
CHOCOLATE LOVERS CUPCAKE
Devil's Food Cake
Chocolate Buttercream
Chocolate Ganache
WHITE CHOCOLATE RASPBERRY
Yellow Cake
White Chocolate Raspberry Buttercream
White Chocolate Garnish
BUTTER COOKIES
20 Varieties to choose from
1/2# & 1# Boxes available
ORDER EARLY!!
DIPPED STRAWBERRIES
1lb Minimum Order
Chocolate or White Chocolate
Must be PREORDERED
Ordering is HIGHLY RECOMMENDED.
Jarosch Bakery accepts orders via PHONE and IN PERSON. We do not accept email orders.