Eclairs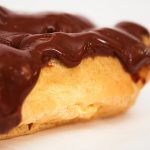 Jarosch Bakery eclairs are made using traditional pâte à choux dough filled with our homemade custard for a unique twist. We drizzle rich chocolate over the entire pastry for a decadent finish. A top seller, our eclairs come in regular and miniature sizes.
Cream Puffs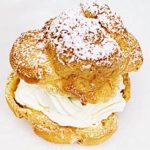 Like an eclair, the cream puff is made from French choux pastry dough. The similarities stop there: while the eclair is long, the cream puff is round. Once we slice the pastry in half, we generously fill the cream puff with airy, delicate whipped cream and sprinkle it with powdered sugar. Also available in miniature.
Whipped Cream & Fruit Tarts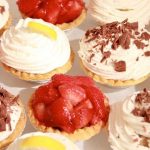 For a tasty treat with just the right amount of sweetness, try a fresh Jarosch Bakery tart. We add an enticing twist to our tarts by making the shell out of cookie dough. We fill them with lemon, sliced bananas & custard, strawberries, or chocolate custard, and top most of them with fluffy whipped cream.
Brownies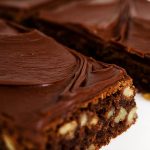 Dark, rich, and chewy, our fudge brownies are the perfect choice for any chocoholic. We mix crunchy pecans and walnuts into the batter and ice the brownies with a creamy fudge frosting. Even with nuts, these brownies have remained a customer favorite for decades.
Cheese Cake Loaf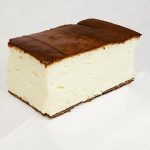 Try a truly singular dessert from Jarosch Bakery. Different from traditional cheesecakes, our Cheese Cake Loaf is made with baker's cheese rather than cream cheese. The addition of whipped egg whites and flour create a light and fluffy cheesecake that will wow your guests.
New York Style Cheesecake
Unlike the light and fluffy Cheesecake Loaf, our NY Style Cheesecake is a rich, cream, decadent dessert for cheesecake lovers everywhere! We make it from scratch at the bakery and it can be topped with either fresh strawberries, cherry pie filling, or in the summer: fresh blueberries.
Pound Cake
Jarosch Bakery's deliciously dense yet tender Pound Cake comes in both yellow and marble flavors. It's made even more delightful iced in our rich fudge icing, but you can also order it iced in our popular buttercream!
Mini Strawberry Cheesecake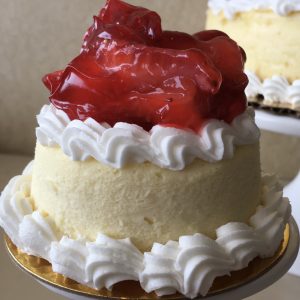 Our Mini Strawberry Cheesecake is a smaller take on our New York Style. It's the perfect size for when you're craving a taste of cheesecake, strawberries, and buttercream. We make this item from scratch at Jarosch Bakery. You can order it without the strawberries, and in the summer we make them with tasty, fresh blueberries.