Coffee Cakes
Baked fresh daily, Jarosch Bakery's 60 plus coffee cake selection comes in a wide range of flavors and styles from strudels and strips to rings, filled varieties and many more! We have coffee cake flavors to please every palette!   
Top Sellers
While all of our coffee cakes are delicious, these six favorites have kept customers coming back to Jarosch Bakery for over 60 years.
All Butter: Buttery dough with crumbly streusel and sweet icing on top.
Apple Strudel: Flaky, buttery dough with scratch apple cinnamon filling and topped with crunchy crystal sugar.
Chocolate Chip: A braid of chocolate and plain dough covered in chocolate chips, streusel, and rich chocolate icing.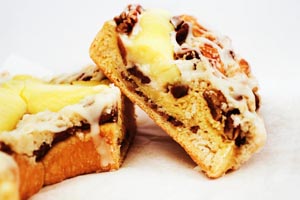 New Look: Pecans are folded into the buttery dough then custard frames the square top. Finished with icing.
Raspberry Strip: Buttery dough generously filled with sweet raspberry preserve and finished with icing and streusel.
Swedish Flat: Thin, light dough filled with sweet & creamy buttercream. Topped with streusel and a generous amount of powdered sugar.
Coffeecake Galleries
Here are some of the many coffeecake flavors we offer - but this isn't everything!! If you don't see what you're looking for, give us a call!
Fruit Coffeecakes
Our fruit coffeecakes contain either high quality fruit preserves or handcrafted whole fruit fillings - both bursting with flavor!
Nut Coffeecakes
Enjoy the salty/sweet combination of crunchy nuts and buttery coffeecake dough, as well as delectable almond paste filling!
Strudels
The Classic German Strudel has a few tasty filling options to try!
Plain, Filled, & More!
Simple done well is simply the best!
Dynamic Duos
Coffee Cake Platters
Available with Pre-Order Only - No Same Day Orders
Planning an event or corporate breakfast? Order Jarosch Bakery coffee cake trays! Each 16" tray serves 25 – 30 people, has a dome lid for easy transport, and can hold three different coffeecake flavors. Most of our coffeecakes cut really well and our  friendly staff will help you to choose the right coffeecakes for your function.