Hanukkah at Jarosch Bakery
Hanukkah is December 10th - December 18th, 2020
Themed Desserts
Around the 10th you'll find plenty of blue and white treats amidst the red and green, like Hanukkah themed Brownie Six Packs, Cupcake Six Packs, and Petit Four Packs already wrapped for gift giving during the eight days and eight nights. Our Star of David Cookie Packs contain 8 shaped sugar cookies-- one for each night of Hanukkah-- decorated with blue sugar, white sugar, and sprinkles.
Plus we'll be baking Challe Bread with and without raisins, as well as frying up Jelly Bismarks (filled with black raspberry jam) and Custard Bismarks dusted with powdered sugar.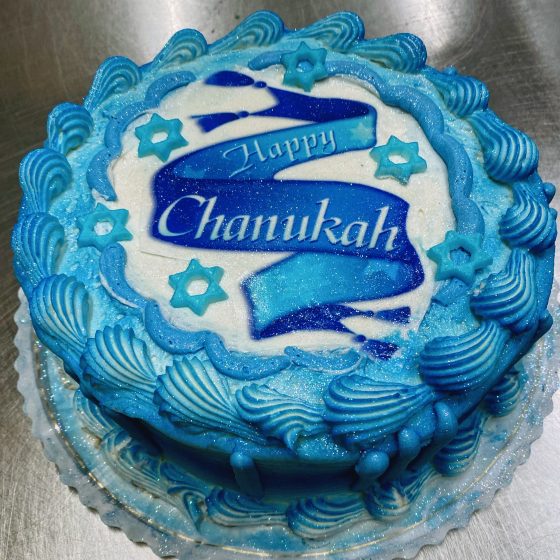 Hanukkah Cakes
Hanukkah Centerpiece Cake: Dress up your Hanukkah table this holiday with the 7" Hanukkah Centerpiece Cake. Serving 10-12 people, the cake is made with 2 full layers of white dough, 1 full layer of devil's food dough, vanilla buttercream filling, and iced in buttercream. For a festive finish, our decorators add a Hanukkah image, and Hanukkah decor. AVAILABLE BY ORDER ONLY!!
Hanukkah Sprinkle Cake: 7" Yellow & Devil's Food Cake with buttercream filling and icing, covered in blue and white sprinkles and topped with Hanukkah decor
Contact us to shop for your special Christmas desserts this holiday season. We create a wide selection of holiday treats for our customers throughout Elk Grove Village, Illinois, and the Chicago Metro area.