Miniature Pastries
When putting together a sweets table, office party, or any elegant event, nothing beats our tempting varieties of miniature pastries. Jarosch Bakery guests can choose from mini brownies and cannoli to mousse cups and swans. Miniature Pastries should be ordered in advance and can be packaged in boxes or attractively arranged on trays.
Banana Boat
For the Banana Boats, we slice our petite éclairs in half, fill the half with creamy custard and fresh bananas, and cover the "boat" with whipped cream and walnuts.
Pineapple Boat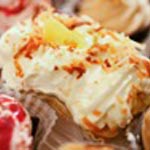 For the Pineapple Boats, we fill the petite éclair half with creamy custard and sweet pineapple chunks, and load the top with fluffy whipped cream and toasted coconut.
Strawberry Boat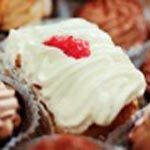 For the Strawberry Boats, we fill the petite éclair half with creamy custard and fresh strawberry pieces, and ice the top with whipped cream and a small strawberry garnish.
Brownies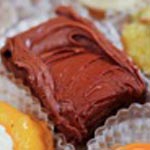 You can never have too much chocolate! Our miniature brownie square is filled with pecans & walnuts and topped with rich fudge frosting for a chewy, crunchy, chocolatey bite.
Cannoli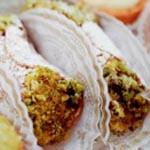 The miniature version of this classic Italian pastry has all the same culinary components: a crunchy shell, creamy ricotta
filling with chocolate chips, and your choice of pistachios, chocolate chips, or sprinkles on the ends.
Cheese Cups 
These little nuggets of heaven have a cookie cup brimming with creamy, tangy, not-too-sweet baker's cheese filling and a colored swirl for garnish.
Coconut Balls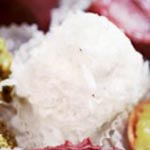 Get a taste of the tropics with these coco-nutty treats! They feature a piece of devil's food cake rolled in creamy buttercream and covered in shaved coconut.
Cream Puffs
Enjoy delicate Pâte à Choux dough generously filled with airy vanilla whipped cream and dusted with powdered sugar.
Custard Puffs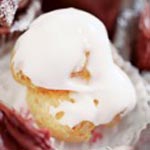 Like our cream puffs, these desserts are made with French pâte à choux dough. We fill them with our homemade custard and garnish them with a touch of melted white fondant icing for a bit of sweetness.
Dipped Strawberries
Fresh, juicy strawberries dipped in chocolate or white chocolate. For an extra special touch, we can add drizzle or turn them into tuxedos for a fun and enticing treat on a sweets table. Priced by the pound, minimum of one pound per order.
Eclairs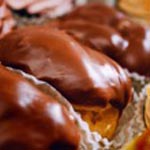 For a tiny twist on a French favorite, try our mini eclairs. These pastries are made from small, oblong choux pastry that we fill with creamy custard and top with delicious chocolate icing.
Fruit Cups
Like our cheese cups, these have the same cookie cup but we fill them with fruit pie fillings and add a teeny dollop of buttercream on top. Available in 3 fruit flavors:
Strawberry Fruit Cup
Cherry Fruit Cup
Lemon Fruit Cup
Kolacky
Exactly like the large ones, our mini kolacky are made from the same baker's cheese and yeast dough for a puffy and soft pastry that's not too sweet. Available in Raspberry, Apricot, or Cheese. Minimum of 24 per order.
Mallows
These miniature pastries are a Jarosch Bakery exclusive: a mallow is a small square of tender devil's food cake topped with a cone of buttercream and coated with chocolate fondant. Garnished with a buttercream swirl. Minimum of 24 per order.
Mousse Cups
A favorite among customers and staff, these marvelous mousse bites consist of an edible dark chocolate cup filled with an airy whipped cream mousse, creating a light, somewhat chocolatey dessert. With five flavors, you'll definitely want to take two!
Chocolate Mousse Cup
Raspberry Mousse Cup
White Chocolate Mousse Cup
Amaretto Mousse Cup
Kahlua Mousse Cup
Petit Fours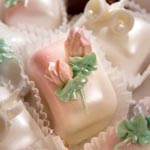 Delightful little cakes perfect for weddings, showers, and birthday tea parties! Petit Fours have two layers of firm yet tender white cake with a thin layer of strawberry preserve filling and buttercream. Covered in melted, sweet fondant icing, we can decorate the tops with buttercream rosebuds, booties, and more. Minimum of 24 per order.