Butter Cookies • Large Cookies • Custom Cookies
Famous Handmade Butter Cookies
Voted "Best Cookies" by the readers of the Daily Herald, Jarosch Bakery is renowned for our melt-in your-mouth butter cookies. Whether you're giving a box as a gift or serving trays of these delicate treats at a banquet, we offer 25 varieties of these scratch made cookies your guests can enjoy!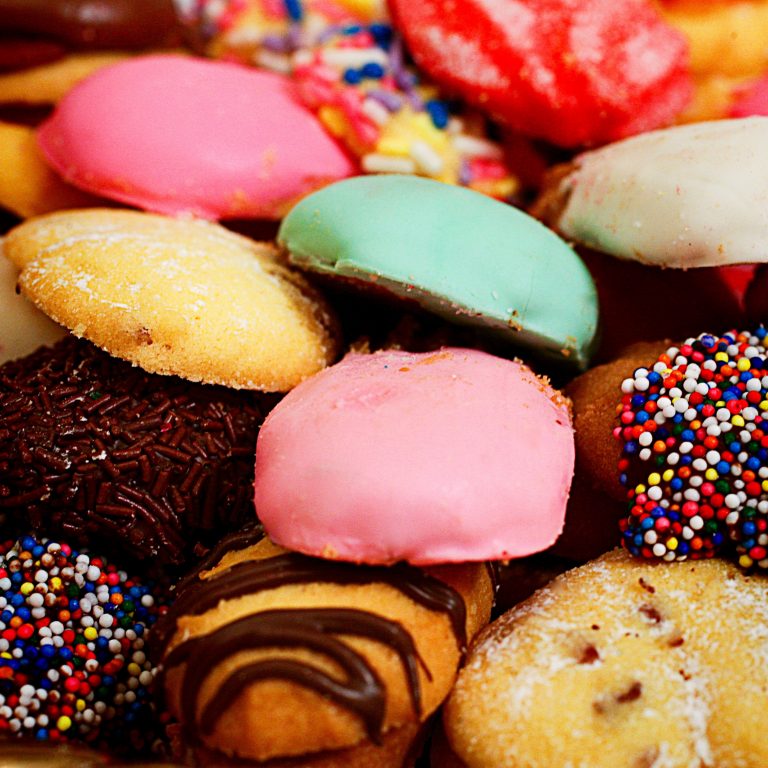 Ordering Your Cookies
Looking for a unique gift or hosting a function? Give your guests an irresistible bite-sized treat with Jarosch Bakery butter cookie boxes and trays! We hand decorate each of these tasty and colorful cookies with colored chocolate, sprinkles, and nuts while others are sandwiched with chocolate, strawberry, raspberry, or apricot fruit preserves.
Priced by the pound, order as many or as few cookies as you want while you pick out your favorites or let us choose the assortment. We require advanced notice for custom assortments. Butter cookies are available in the following sizes and servings:
1 Pound: Serves 8 - 10
2 Pounds: Serves 16 - 20
3 Pounds: Serves 24 - 30
4 Pounds: Serves 32 - 40
5 Pounds: Serves 40 - 50
For Thanksgiving and Christmas:
This December 2021, Butter Cookies are ONLY AVAILABLE in 3 Types of Assortments:
Full Assortments, No-Nut Assortments, and Non-Christmas Assortments
There is no pre-ordering of or coming to the store and picking out specific cookie types. To avoid the long waits closer to the Christmas, we highly recommend picking up your cookies a couple weeks early and freezing them until Christmas. It works - we've tried it! We'll happily shrink wrap your boxes for you, as well!
Check out our year-round selection (some varieties not available)
Currently unavailable: Raspberry Sandwich, Chocolate Sandwich, Apricot Sandwich, Brownie
Classic Large Cookies
Nothing beats scratch-made cookies with a homemade taste reminiscent of the ones Grandma used to bake. From chocolate chip to oatmeal raisin, you'll love Jarosch Bakery's delicious assortments of traditional cookies. Our large cookies are sold individually, available year round, and measure about 3" to 4" in diameter.
Chocolate Chip Cookies
Sweet & Crunchy traditional cookies
Sugar Cookies
Buttery cookies covered in sugar
Cranberry Oatmeal Cookies
Oatmeal cookies with cinnamon, dried cranberries, & white chocolate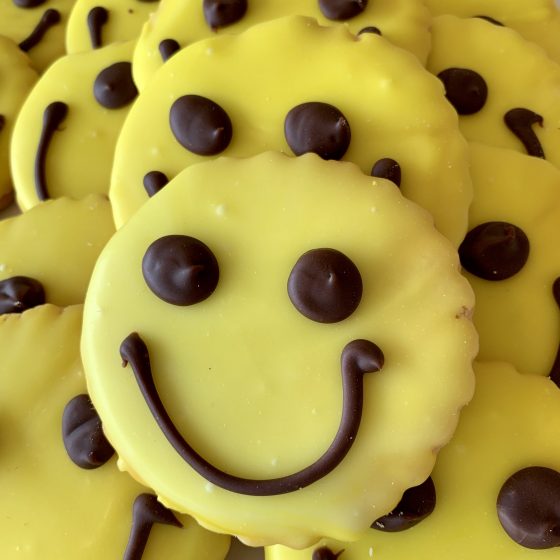 Face Cookies
Sugar cookie dipped in melted fondant. Colors change based on the season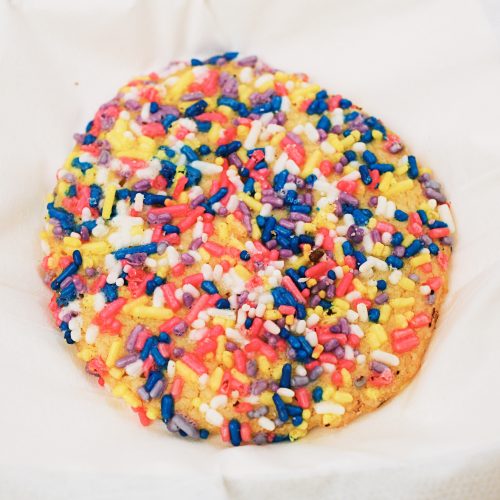 Sprinkle Cookies
Sugar Cookie covered in sprinkles. Colors vary depending on the season
Chocolate Sprinkle Cookies
Sugar cookies covered in classic chocolate sprinkles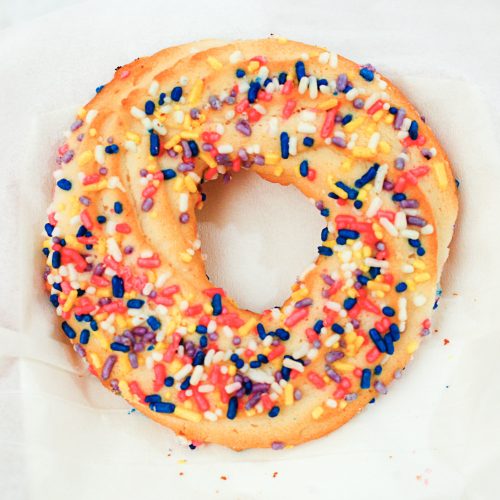 Butter Jumbles
Buttery, delicate cookie dough with 3 flavor options: Plain, Sprinkles, & Chocolate Sprinkles
Custom Cookies
Due to the current demand for iced cookies, RESTRICTIONS have been made on cookies with certain designs and shapes. Please call for current guidelines
Whether you're planning a baby shower or want memorable wedding favors, you can add a sweet touch to your next event with Jarosch Bakery custom cookies. If you're giving cookies as gifts or favors, save time by letting us wrap them for you! We offer a few options at additional costs. We generally require two weeks notice for custom cookie orders; however, if you have a time constraint, give us a call and we can discuss options. Prices vary based on design requests.
Custom Cookie Gallery
Our customers are always bringing us interesting designs for fun & memorable cookies! Here's a selection of unique designs from our portfolio to inspire you! Custom cookies do have minimums depending on the style so call us for more info.
Bridal Shower & Wedding Cookies
Even More Cookies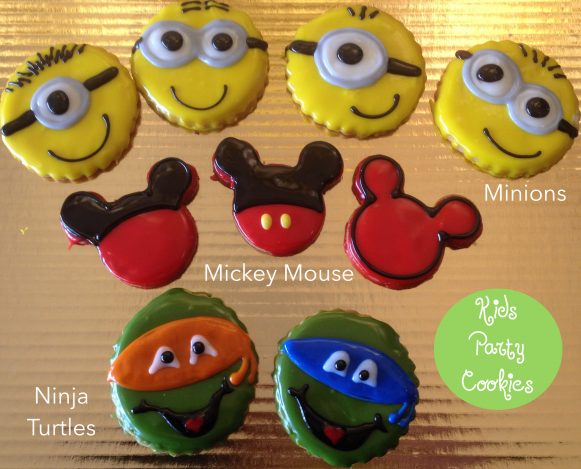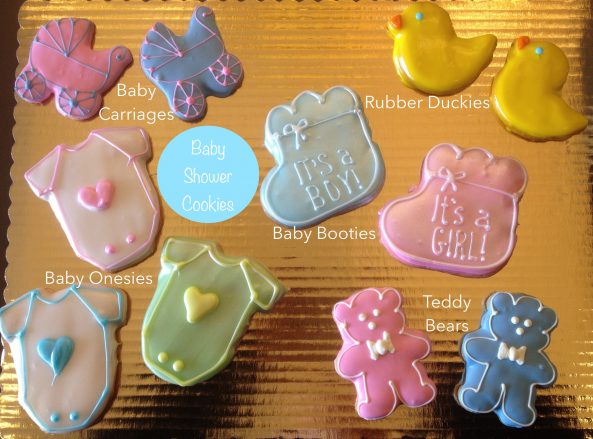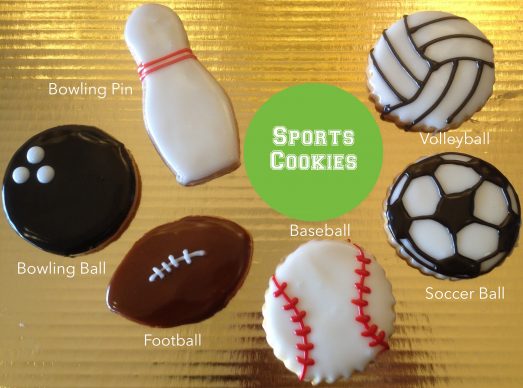 Contact us in Elk Grove Village, Illinois, to discover for yourself the addictive power of our hand-made butter cookies! We proudly accept orders for cookie trays from customers throughout the Chicago Metro area, as well as all over the country.